UCL – University College of London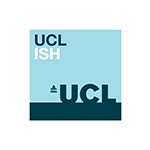 University College London was established in 1826. More than 5,000 academic and research staff at UCL are dedicated to research and teaching of the highest standards to a nearly 29,000-strong student community coming from more than 150 different countries. UCL's mission to create and disseminate new knowledge is supported by the latest scientific and IT infrastructure, creative learning spaces and diverse museums and collections – all underpinned by the UK's greatest concentration of professors.
UCL Institute for Sustainable Heritage has a cross-disciplinary team of academic staff whose research spans
sustainable heritage management and cutting-edge heritage science. The ISH has built strong relationships with numerous heritage institutions and policy bodies, to ensure that its research addresses real-life heritage problems, and is targeted towards the needs of end-users.
UCL's role in the project will be to coordinate WP1 and in the frame of this, specifically to develop knowledge and techniques to monitor and measure pollutants (including those emitted by artworks themselves) in microenvironments and model the microenvironments using well-mixed models and computational fluid dynamics. UCL will contribute also with the data needed for computational modelling and it will participate in the testing of the new materials and solution. Moreover, UCL will contribute to develop a web-based tool for conservation decision makers.
Expertise and infrastructure related to the project
UCL ISH has extensive environmental research lab facilities, as well as heritage materials research facilities,
and a mobile heritage laboratory to carry out field research and monitoring. The facilities include GC/MS using thermal desorption and SPME autosamplers, pollutant data loggers (SO2, NOx, O3, HCHO), as well as a range of techniques to characterise and monitor degradation of real objects using spectroscopy (IR, NIR, hyperspectral imaging, profilometry, colour etc.) as well as other techniques, from particle counting, thermal techniques to viscometry (for MW determination of cellulose).
UCL ISH has a number of accelerated degradation setups that will be used for the project, in which T, RH, light and pollutant/atmosphere composition can be controlled.
In addition, UCL ISH has excellent access to modelling expertise and software, e.g. Fluent and Matlab, which we will use in the project.
LOCATION
London (United Kingdom)