Italian Ministry of Culture – SABAP CH-PE "Archaeology, Fine Arts and Landscape Superintendency for the Provinces of Chieti and Pescara"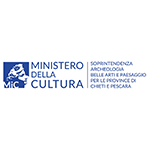 The Archaeology, Fine Arts and Landscape Superintendency for the Provinces of Chieti and Pescara belongs to the Italian Ministry of Culture, the Authority responsible for Culture, Shows, Conservation and Promotion of Italian Cultural and Artistic Heritage, Landscape and Tourism (MIC-SABAP CH-PE).
SABAP CH-PE is responsible for the conservation and restoration of all the historical-archaeological contexts, monuments and artifacts of the Abruzzo Region in Central Italy, either by direct intervention or by monitoring and evaluating work performed by third parties.
SABAP CH-PE contributes to knowledge about Italian cultural heritage and raising awareness, to research, education and scientific training with regard to cultural heritage and landscape in collaboration with other national and international authorities in the sector; it has great experience in archaeological digs and in the maintenance of historical buildings and monuments, in the identification of the requirements for the best protection of archaeological-historical areas, buildings and monuments, in conservation of cultural heritage, in the organization of exhibitions and museums and in managing restoration and preservation.
Expertise and infrastructure related to the project
The protection of important archaeological-historical sites, monuments, buildings and artifacts in Abruzzo is carried out by the very experienced personnel and conservators of SABAP CH-PE, who are highly specialized in identifying and counteracting the problems of degradation of objects and sites.
Within the project framework, SABAP CH-PE Abruzzo will select significant case studies on the state of conservation of some cultural heritage in the territory; it will also research all the information available and identify the main environmental and climatic factors affecting that state of conservation.
SABAP CH-PE conservators will participate in identifying the main requirements for best conservation of the selected cases studies, as well as in the validation of the new materials and methods for conservation using dedicated laboratories and expertise to evaluate, together with the other Partners, the efficacy of the methods studied.
LOCATION
Chieti (Italy)