The Hungarian National Museum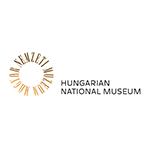 The Hungarian National Museum (HNM) as the central museum of Hungary is a budgetary body and a government organization. The members of the staff are public servants. The museum has approx. 3.8 million objects in its main building, outside depos and 13 branch institutions all over the country. The main profile of the museum is defined in its deed of foundation. The Hungarian National Museum collects, preserves and presents the objects and historical relics – from Neolithic Age to present days – of the Carpathian Basin and Hungary since 1802. The HNM has a large exhibition space in its main building, where 15.000 objects are on display.
The HNM has a significant archaeological collection (approx. 950.000), photographs (approx.1.000.000), coins and medals (approx. 340.000), arms and armor (approx. 11.000), goldsmith objects (approx. 12.000), posters (approx. 45.000), archives of different documents (approx. 130.000), textiles (approx. 20.000) and other collections of organic and inorganic materials. Modern materials like polymers or industrial papers, paints can be found in the collection of unique, modern objects and modern household objects (approx. 12.000).
Composite objects are represented by approx. 400.000 pieces in several collections of the HNM. The HNM has more than 40 years of experience in effective dissemination of cultural knowledge: central museum of the region, involved in university level education in cooperation with Hungarian University of Fine Arts, established and operates the national accredited and integrated training of Hungarian preventive conservation, regularly organizing conferences seminars and workshops, has active social relations, conducts continuous communication with the society. The Conservation Department (CD) of the HNM has different tasks ranging from preventive conservation, active restoration, research activities, education in university level, conference organization, etc. Preventive conservation is one of the major activities of the CD and includes monitoring and maintenance of environmental conditions in exhibitions, storage and outside depos, by means of air purifiers, humidification and dehumidification equipments, special absorbents, etc., supervision of loans, transports, packaging, operating effective IPM, etc. The CD is involved in several innovation projects focusing on new packaging materials, environmental sensors, methods and tools of active conservation.
Expertise and infrastructure related to the project
The Conservation Department of HNM has the following devices (monitoring, measuring tools, microscopes, spectrometers, scales, humidifiers, dehumidifiers, water cleaning devices) relevant to the APACHE proposal.
LOCATION
Budapest (Hungary)