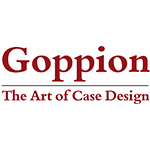 Over the past twenty-five years, Goppion has emerged as the world leader in the creation and development of museum display cases and installations. The world's foremost institutions commission Goppion to present and protect their masterpieces – from the Louvre's Mona Lisa and The Israel Museum's Dead Sea Scrolls to the Tower of London's Crown Jewels and the Castello Sforzesco's Pietà Rondanini. Recent US collaborations include the creation of display cases for the new Harvard Art Museums, the renovated Cooper Hewitt Smithsonian Design Museum, and the recently opened National Museum of African American History and Culture in Washington DC.
Expertise and infrastructure related to the project
The continuous research and development carried out in Goppion laboratory, or through partnerships, or STEAM (Science, Technology, Education, Art, and Mathematics) Outreach programs with the world's most advanced research institutes, means that today's innovative cutting-edge projects can become the standard application of tomorrow. The success of this approach is documented by the number of patents that Goppion holds in several fields. To ensure the reliability of its innovations, all its new technology is rigorously tested by external institutes and backed up by certifications.
The Laboratorio Museotecnico center carries out research, producing innovation as part of a continuous process that influences every aspect of museum display, from product design to the introduction of new materials and technology. Goppion explores the potential of new approaches to improve the functioning, quality and reliability of the cases, finalising the research to design new products and improve manufacturing technology. The center acts as a focal point for encounters and cultural exchanges, where it harnesses the know-how gleaned from collaborations and partnerships with leading international research institutes and organizations working in the field of museum conservation and exhibition. Research is a strategic activity in Goppion policy; in fact, the company invests considerable human and financial resources (over 3% of the company's annual turnover). Goppion creativity can be measured by the important innovations introduced in the field of museum displays. Goppion holds or has pending an unmatched number of patents in this field.
LOCATION
Milano (Italy)