Fraunhofer Institute for Mechanics of Materials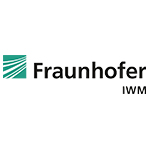 The Fraunhofer Society (FhG) is a recognized non-profit research organization which takes its name from the researcher, inventor and entrepreneur Joseph von Fraunhofer (1787-1826). Founded in 1949, the FhG currently comprises 69 Fraunhofer-Institutes with nearly 25.000 employees at 40 different locations in Germany as well as research centers and representative offices in Europe, USA and Asia. The FhG undertakes applied research in future-oriented projects with the aim of finding innovative solutions to issues concerning the industrial economy and society in general. Its services are solicited by customers and contractual partners in the industry, the service sector and the public administration.
The Fraunhofer Institute for Mechanics of Materials is a leading research centre in the modelling and experimental and theoretical characterization of material properties. The objective of IWM is to develop solutions that improve the safety, reliability, durability and functionality of materials, technical components and systems, thus making them more cost effective and energy-efficient. The combination of experimental characterization, computational simulation and multiscale modelling is a primary focus of the institute. Lately, the IWM took a leading role in the digitization of materials, i. e. making data and models available and interoperable for advanced analytics and sustainable longterm accessibility.
Expertise and infrastructure related to the project
Fraunhofer IWM invests continuously in its digital infrastructure and upgrades its HPC cluster in 2018 with more than 2200 more cores. Further, the institute runs an EMC-VNX and Isilon system with more than 1000 Terabyte capacity to allow storing and managing large data sets from both experiments and modelling. The material informatics group hosts own servers for the development of web-based collaboration platforms and open simulation platforms.
LOCATION
Freiburg (Germany)