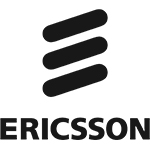 Ericsson's services, software and infrastructure support every major telecom operator in the world. With some 115,000 employees and customers in 180 countries, it combines global scale with technology and services leadership. It supports networks that connect more than 2.5 billion subscribers. 40 percent of the world's mobile traffic is carried over Ericsson networks. Ericsson invests heavily in research and development, and actively promote open standards and systems, to ensure that its solutions – and its customers – stay in front. Founded in 1876, Ericsson has its headquarters in Stockholm, Sweden. Also reflecting Ericsson's commitment to technological leadership, the Ericsson Group has one of the industry's most comprehensive intellectual property portfolio containing over 39,000 patents. Ericsson will participate in the consortium via the research areas the research areas "Radio" and "Network, Architecture, and Protocols".
Expertise related to the project
The Ericsson Research group participating in APACHE brings practical experience of air interface and protocol design for low power devices. The participants have ample experience in research and standardization for wireless systems and are currently active within the IEEE 802.11 and Bluetooth standardization. This knowledge and experience makes them key contributors to Task 4.2 and a support to Task 4.3, where the group can contribute to the definition of the communication architecture and protocol design for the wireless sensing and networking solution for monitoring the VOCs.
LOCATION
Stockholm (Sweden)