Chalmers University of Technology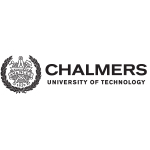 Chalmers tekniska hoegskola (Chalmers University of Technology) was founded in 1829 following a donation by William Chalmers, director of the Swedish East India Company, and was transformed into an independent foundation in 1994. With some 3000 employees, Chalmers has developed leading research in the areas of life sciences, materials science, information technology, micro-and nanotechnology, environmental sciences and energy.
Chalmers' 13 departments offers PhD and Licentiate programmes as well as MScEng, MArch, BEng and
nautical programmes.
In the Division of Applied Surface Chemistry at Chalmers there is a long tradition of research in three main
areas of relevance to the Apache proposal, which are the siliceous porous materials, in close collaboration with AkzoNobel, the cellulose-based materials and the development of surface active species for surface
modification (e.g. surfactant).
Expertise and infrastructure related to the project
The Chalmers groups has a strong expertise in preparation and characterization of mesoporous materials, which will be central to the activity of APACHE. Combined with the group's know-how on surface modification and with the University's aim of developing sustainable solutions, Chalmers will support the project by creating new adsorbents with strong emphasis on recyclability and re-use.
LOCATION
Gothenburg (Sweden)